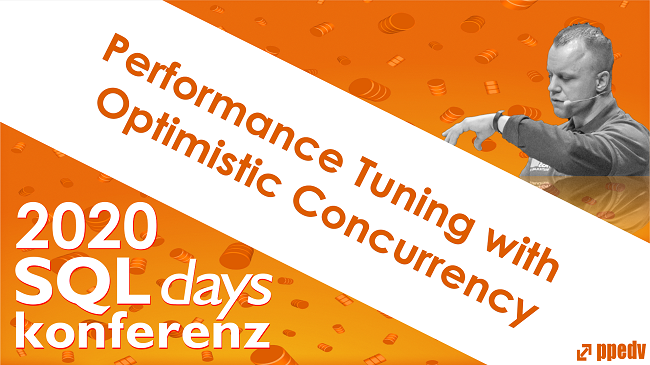 Für Play - Login via eMail
Performance Tuning with Optimistic Concurrency von Torsten Strauß

Vom 11. bis 14. Oktober findet die " SQLdays konferenz 2021" in Erding statt.
Video zum Vortrag von Torsten Strauß mit dem Titel "Performance Tuning with Optimistic Concurrency" anlässlich der SQLdays 2020.
The default transaction isolation level of SQL Server is set to read committed, which eliminates certain read phenomena, but can also affect concurrency and overall read performance. SQL Server also offers two optimistic transaction isolation levels where a transaction does not acquire a lock when reading data, which reduces the probability of blocks and therefore leads to significantly better reading performance in a busy database. In this session (level 300), you will learn how to increase the reading performance in a database simply by changing the transaction isolation level to snapshot isolation. You will also understand how SQL Server implements this function internally and what disadvantages it has.
Auf unserem Video-Portal studios.ppedv.de findet man eine breite Basis an Informationen rund um das Thema IT.
Die Schwerpunkte bilden dabei nicht nur Microsoft-Technologien. Themen wie Visual Studio, .net, C++, C#, Angular JS und viele mehr werden von unseren professionellen Trainern detailliert erklärt.