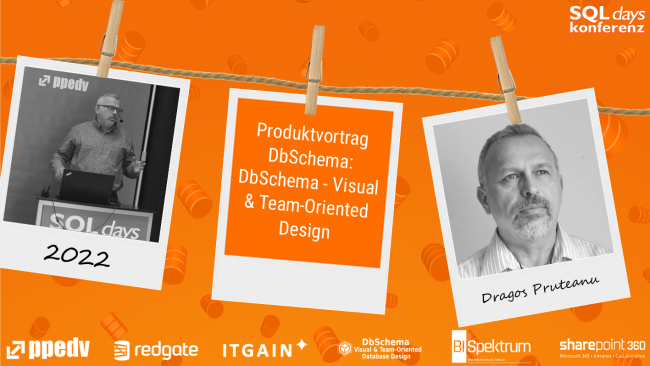 Für Play - Login via eMail
Produktvortrag DbSchema: DbSchema - Visual and Team-Oriented Design von Dragos Pruteanu

Vom 17. bis 20. Oktober fanden die " SQLdays 2022" in Erding statt.
Video zum Vortrag von Dragos Pruteanu mit dem Titel "Produktvortrag DbSchema: DbSchema - Visual and Team-Oriented Design" anlässlich der SQLdays 2022.
Diese Session wurde in Englisch abgehalten.
You want to manage, document or design your database in a simple, uncomplicated and team-oriented way.
Then maybe this product presentation can help you. Dragos Pruteanu explains all the advantages of his product DbSchema.
Auf unserem Video-Portal studios.ppedv.de findet man eine breite Basis an Informationen rund um das Thema IT.
Die Schwerpunkte bilden dabei nicht nur Microsoft-Technologien. Themen wie Visual Studio, .net, C++, C#, Angular JS und viele mehr werden von unseren professionellen Trainern detailliert erklärt.